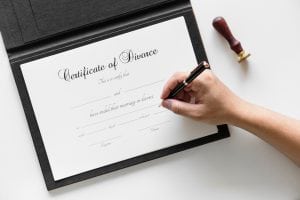 In order to file for a divorce in Tennessee, Tennessee Code Annotated Section 36-4-104 requires that at least one party has residency in Tennessee at least six months prior to filing.  For purposes of a divorce action, "residency" refers to the domicile of a party. In reviewing questions regarding domicile of a party in order to establish residency in Tennessee, as required to confer jurisdiction to grant a divorce, the court considers not only a person's declarations and conduct but also all other relevant facts and circumstances. To acquire domicile in Tennessee the party must have no present intention or expectation of changing his or her residence to some other state. To create domicile in Tennessee, for the purposes of establishing residence, a person ordinarily must not only intend to establish a personal home in this state but must also act consistently with this intention.  Factors to be considered may be obtaining a driver's license, registering to vote, address change for mail, obtaining utilities, and place of employment.
The divorce may be filed in any county where either the husband or wife resides.  If only one party currently resides in Tennessee, it must be determined if Tennessee has jurisdiction over the party that resides out of state. Tennessee has a statute that determines when nonresidents are subject to the jurisdiction of Tennessee Courts.  The Tennessee long arm statute codified at Tennessee Code Annotated Section 20-2-214 and states in pertinent part states:
Persons who are nonresidents of this state and residents of this state who are outside the state and cannot be personally served with process within this state are subject to the jurisdiction of the courts of this state as to any action or claim for relief arising from: (1) The transaction of any business within this state…  (3) The ownership or possession of any interest in property located within this state;… (5) Entering into a contract for services to be rendered or for materials to be furnished in this state;… (6) Any basis not inconsistent with the constitution of this state or of the United States; (7) Any action of divorce, annulment or separate maintenance where the parties lived in the marital relationship within this state, notwithstanding one party's subsequent departure from this state, as to all obligations arising for alimony, custody, child support or marital dissolution agreement, if the other party to the marital relationship continues to reside in this state.
As noted in subsection (7), if the parties resided in Tennessee as a married couple and one party continues to reside in Tennessee, then Tennessee has jurisdiction and the divorce can be filed in Tennessee.
Thus, if you and your spouse have lived in Tennessee for over six months, then you can file for divorce in Tennessee.  If you and your spouse lived together in Tennessee as a married couple and you have resided in Tennessee for over six months, you can file for divorce even if you spouse has relocated.  
If you live out of state but your spouse has resided in Tennessee for over six months, you can file for divorce in the county where your spouse resides.  However, if you live out of state and file in Tennessee where your spouse resides, then you will be submitting yourself to the personal jurisdiction of Tennessee courts.  For any questions regarding jurisdiction, it would be wise to consult with an attorney to make sure you understand your options and the impact of filing for divorce.
If you'd like to speak with Melanie Hogg or another Held Law Firm attorney about a divorce in Tennessee, call 865-685-4780 to schedule a case assessment.