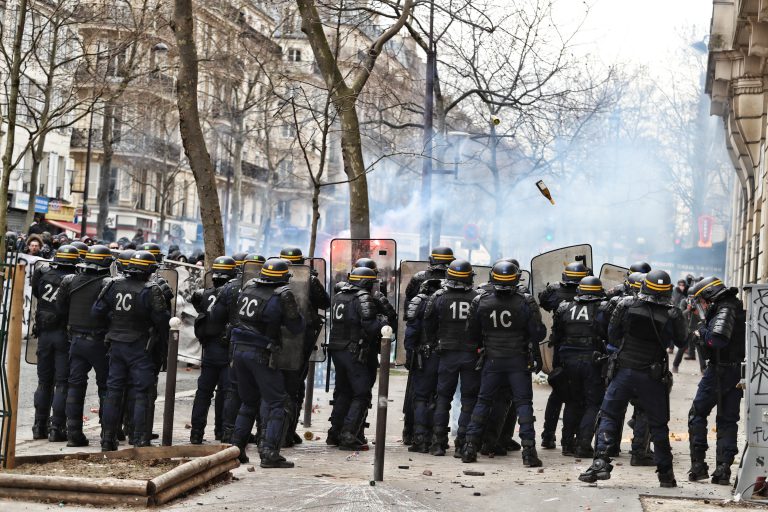 Sometimes, it seems like things never change. The latest riots, the death of a black man during an encounter with a white police officer. I've been watching this same television clip my entire career. Police brutality has happened right here in Knoxville.
A HISTORY OF FORCE
In the late 1990's, a black man named Andre Stenson left his shift at Calhoun's On the River late one night to go home. He forgot to turn his headlights on as he left the parking lot. Police — all of them white — followed him from Neyland Drive all the way to his neighborhood. They pulled him over on Selma. Mr. Stenson was on parole at the time; people have speculated that he feared picking up new charges.
He ran. The police chased him through a nearby ball field and caught him. He died in the ensuing struggle. The medical examiner found that he died of a heart attack caused by the exertion of running and fighting the police.
That same year, a disabled Latino man named Juan Daniels locked himself in a darkened basement, having a mental crisis. I don't remember why someone called the police, but his grandmother was on the scene, trying to calm Mr. Daniels down by talking to him through the basement transom window. Police entered the basement and say that he advanced on them, wielding a knife. They killed him.
DOING THE DIGGING
These are only two of the stories that flooded Knoxville newspapers that year. Then, as now, the community was outraged. Then, as now, people were violent, marching, enraged and tearful. I was also distraught and did not know where to begin, but I had a shiny new law license and I felt I had to do something. So, somewhat on impulse, I sent an open records request to KPD for the records of all investigations into allegations of police brutality and the use of racial slurs for the last fifteen years.
Nine law students and I, all in our best suits, ID tags clipped to our lapels (we had made them up to look official) convened at the safety building. We didn't expect to see what we saw – bankers boxes, floor to ceiling, all the way around the conference room we were to work in, lining the hall. THAT many investigations. I remember the officer smirking – that's the only word I can use – saying I need to be careful what I ask for, that all of this is just a waste of time.
"Knock yourself out," he said.  "But I'll just go ahead and tell you that in fifteen years, not one time has an officer been found to do anything wrong."
"Not even once?" I said, incredulous.
"Nope, not once," he replied as he closed the door behind him.
So we all took our suit jackets off and began working. Here's what we saw:
Sure enough, not one complaint was founded.
In most cases, the complainant was asked to take a lie detector test. If they refused, KPD closed the case. KPD did not ask officers to take a lie detector test.
Interviews took place at the Safety Building by a uniformed officer. If the complainant did not show up, the case was closed without any follow-up.
It was roughly the same 35 officers out of a force of 350 who caught repeated complaints.
When the case was "unfounded," the officer was almost without fail moved to a new beat, supposedly to protect his own safety. A new officer, always a young one, new to the force, was then assigned to the beat where the incident had occurred.
SO WHAT DO WE DO?
Well, what I did was to organize an interdenominational coalition of (mostly white) churches to support a new (mostly black) group called Citizens for Police Review. We applied for and got grants from the Greensboro Justice Fund and Mary Reynolds Babcock, along with gaining local support from the Appalachian Community Fund and the East Tennessee Foundation, for which I am grateful. It allowed us to hire a community organizer. I then drafted an ordinance that formed the Police Advisory Review Committee, and we went to city council meetings and got it passed.
PARC is an independent body that reviews claims of unnecessary police brutality or racial impropriety. The idea is to have someone independent of the police watching the police, listening to folks' complaints, making recommendations, solving problems over time. Intended so that folks feel less intimidated when they make reports, the IAU must answer to someone when they complete an investigation. It's certainly not perfect. It had no budget, no staff, and it's a lot less powerful a body since Mayor Victor Ashe amended the ordinance to remove its enforcement powers.
MOVING FORWARD
I went to law school because I wanted to make a difference in my community. PARC was one of my attempts. PARC could be a much more effective tool to enhance our community's relationship with the police and end police brutality. Some specific ideas:
Give PARC more power and a budget to investigate claims and recommend action.
Do not hide behind civil service regulations to discipline offending police officers. Remove them from the force. At a minimum, if you have to keep them, get them out of a job where they interact with the public.
Do not put young, inexperienced cops on tough beats alone. Pair inexperienced officers with experienced officers.
Increase training on de-escalation techniques and reward officers who use them.
Certainly, it's not enough. I do not claim this one proposal will solve the problem. I don't blame anyone for shaking their fists and shouting in the streets, but I wish we could move past the rage. Our community in particular is blessed with so many people of goodwill and common sense. Our ability to engage one another could lead the entire country.
At some point, we need to work together to blaze a path forward.
Margaret Held is the founding attorney at Held Law Firm.