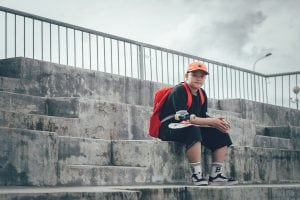 However, the Department of Child Services (DCS) gets involved–whether through a dirty trick pulled by your ex, or a call from a third party–the ramifications for you spending time with your child are severe. Here are some things you can expect:
1. You will be interviewed by a DCS worker, probably at your home.
In general, the more severe the allegation, the quicker that interview will happen. You need to put your best foot forward: don't get defensive, don't make accusatory statements about the other person, and be polite. Answer their questions honestly and directly, and get as much information from the worker as you can about what the concern is, what you need to do, and when you can expect to hear back from them.
2. Your child will be interviewed independently of you or your spouse.
This usually happens in a neutral place, like the school. If the child seems OK, you seem polite and non-defensive, and your house seems OK, this may be the end of it. Time will go by, and eventually, the case will close. You will likely not hear about the closure unless you check-in and ask first.
If the child or anyone else confirms the allegations, DCS may open a case in Juvenile Court, bringing the allegations to the Court's attention, and asking for the child to be removed from your care.
The Court may issue an order prohibiting you from having any contact with your child. That Order, if it's going to come, will come quickly and without warning. A hearing is typically set within 3-5 days, but that is rarely enough time for you to even learn exactly what the allegations are, let alone prepare a defense. Once that Order goes down, you are likely looking at several months before you can get back into Court. A typical Juvenile Dependency and Neglect case takes more than a year – a year during which you will have limited (or even no) contact with your child.
So what do you do?
The minute you receive a call from a DCS worker, hire a lawyer. Maybe you know there's nothing to these allegations, but are you willing to risk it?
Find out as much as you can, as quickly as you can, about what you are accused of. Tell this to your lawyer. They don't have much time to interview the witnesses or collect the documents, so be prepared to do a lot of legwork.
Clean your house. Be clean yourself. You are about to have a company that is going to pay attention to.
Ask the DCS worker what you can do to alleviate the concern. Ask them to talk to people who know you are a good parent. Offer to get whatever documents they ask you to get. Be helpful, instead of defensive.
Do not talk about it to your kids. You may think you are helping "prepare" them for their interview with the worker. You may mean well. But at best, you'll look like you are coaching the kids, and at worst, like you are intimidating them.
Be aware of this: it is true that some parents use a DCS report as a weapon, intending to interfere with your co-parenting time. If that's what is going on, this mess should be over in a matter of days; and if there's nothing to the allegation, the DCS investigation will likely hurt the reporting party's custody lawsuit in the end. Courts do not tolerate abuse of the process any more than they tolerate abuse of children.
If you need to consult an attorney about child custody or the potential involvement of DCS, call (865) 685-4780 to schedule a case assessment with Margaret Held or another Held Law Firm attorney.