WHAT A DAY!  THE SKY WAS BRIGHT BLUE, AND THE AIR WAS CRISP WITH THE SCENT OF WOODFIRE.
South Knoxville Elementary School students participated in a fun day of learning as they watched re-enactors Gordon Sisk, volunteer at Blount Mansion, and Patrick Hollis, Executive Director of Mabry-Hazen House demonstrate 18th and 19th-century methods of cooking over an open fire. 
The students gathered in small, classroom sized groups on the grassy area adjacent to South Knoxville Elementary School (SKES).  Shielding their eyes from the bright sunshine, they engaged Mr. Sisk and Mr. Hollis often about the how's and why's of the wood, the fire, and the techniques used to produce Johnny Cakes, biscuits, stews and more.  They were absorbed with tales of life in a time so unlike our own.  A time with no electricity, no ovens, no refrigeration, and no microwaves!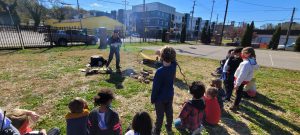 As part of the event, Held Law Firm, Blount Mansion and SKES wanted to immerse the students in the textures and tastes of foods from that time.  We provided samples of the cornbread-like Johnny Cake and a dish called the "Three Sisters" which is made of corn, beans and squash. Blackwelder Visual Media produced a video  filmed in the Blount Mansion Kitchen that shows how to make the Three Sisters as it would have been made in the time of William Blount
.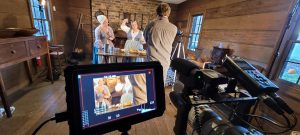 We sent the 3rd, 4th, and 5th graders home with a recipe and the ingredients for the Three Sisters so that they could make it with their family over the Thanksgiving break. The video, with re-enactors Karma King and Kendra Seals, shows how to make this dish, and goes into detail about this indigenous, Cherokee dish's name. The students can follow along as they prepare their own Three Sisters at home!
Thank you to the Student Council members from SKES, who took charge in bagging up the recipe and ingredients for the Three Sisters.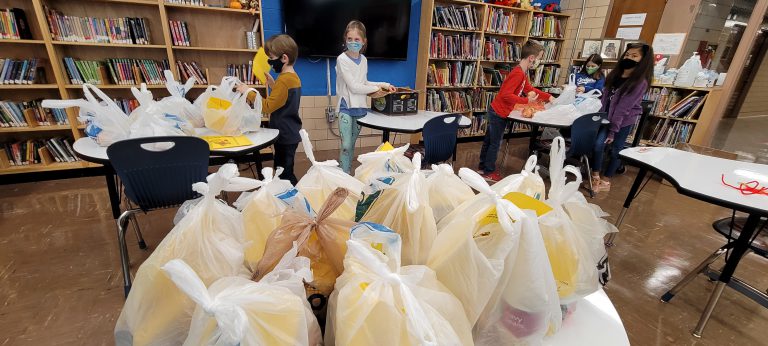 They also helped in escorting classes to the cooking areas, helped in passing out the samples, and in general, making the day run more smoothly than I had thought!  It was so good to see each one of them again. At our first event, we helped swear them into their elected Student Council position.  (Held Law Firm's blog called Collaborative Work shows more and our Facebook post on October 23rd goes into detail, follow us!)
THANK YOU:
Dr. Tanna Nicely, Principal SKES, David Hearnes, Executive Director- Blount Mansion, Michael Jordan, Director of Marketing and Public Relations- Blount Mansion, Bradley Blackwelder- Blackwelder Visual Media,  Patrick Hollis, Executive Director- Mabry-Hazen House, Gordon Sisk, Volunteer at Blount Mansion, Office "G" – SKES, the staff and teachers at SKES- for being so helpful, and enthusiastic, Karma King and Kendra Seals for your deep interest, and talent, the 2020-2021 SKES Student Council members, and Margaret Held for always having an idea!~~ Charis Kraski