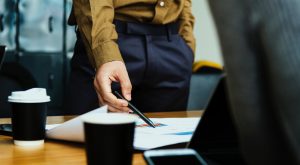 Unlike other professions, lawyers are not required to intern prior to taking their first client. We believe that fact is scary. Doctors go through years of residency because to perform surgery without that supervised experience would put patients in danger. Similarly, to entrust someone with zero experience to litigate such important issues as who gets custody of your child? No way.
Held Law Firm is proud to announce the Advocacy Project. We believe that the clerking experience is vital to preparing students for the rigors of practicing law. The Advocacy Project addresses the deficit of real-world experience most new law graduates face by teaching law students those aspects of the practice of law that are not taught in law school. The project tracks the law school experience, and only when each student demonstrates that they pass our standards for each year are they allowed to continue their employment through the next phase.
We are proud to welcome Rhys Bowen-Tanton and Mariel Cooper to Held Law Firm. Here's a little bit about them and the work they do here.
Rhys Bowen-Tanton is in his second year of studies at the University of Tennessee College of Law. Last summer, he interned with the Tennessee Justice Center, a state-wide non-profit law firm that advocates for clients on healthcare issues. This year at Held Law Firm, Rhys assists our paralegal with collecting, organizing, and effectively presenting the facts that form the basis of our client's claims. Rhys assists our clients with identifying potential witnesses and documents, issuing subpoenas, analyzing and charting the results, collecting documents that are responsive to discovery, and preparing trial exhibits. Rhys will also work in Held Law Firm's Advocacy Project to identify common legal needs of Held Law Firm clients, and strategies to more effectively meet those needs.
Mariel Cooper is in her second year of law school at the University of Tennessee College of Law. Originally from Fayetteville, Arkansas, Mariel graduated from Savannah College of Art and Design in 2017 with a BA in Equestrian Studies and a minor in Business Management & Entrepreneurship. While she enjoyed living in coastal Georgia during her time there, the beauty and close proximity of the Smoky Mountains brought her to Knoxville. Before joining the team here at Held Law Firm, Mariel assisted University of Tennessee professor, Joan Heminway, in researching a very narrow area of the law, analogizing how the law treats different animals to weapons, property, and even family members. She is the Speaker Chair of Law Women, a Staff Editor on Transactions: The Tennessee Journal of Business Law, and a member of Animal Law. She is very excited to help make a difference in Knoxville's community.
The goal for these students is to teach them, by the end of their tenure at this firm, to not only do the legal research and writing they learn in law school, but to handle the day-to-day hands-on experience working with clients and legal staff.  Furthermore, through their work with the Project, we hope to train new lawyers to use the legal system as a tool to better the lives of individual clients and the community we live in.