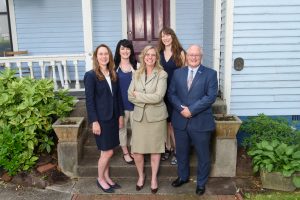 Because I have always known I wanted to be a lawyer, I have spent my entire life working in different law firms. When I was 8 years old, buck-toothed and freckled, I made copies for one of those classic old-school lawyers. In high school, I was a copy clerk at a different firm. In college, I worked for yet another firm, doing legal research and organizing files. Later, I worked as a legal secretary for a fourth firm and as a law clerk for a fifth firm, before working as an investigator for two more attorneys. I also clerked, then served as a paralegal, and then as a staff attorney for Knoxville Legal Aid Society.
But in that process, I've developed some strong opinions about what makes a law firm great, and I've spent the last twenty years building this law firm to be a great one.  Here's what I think sets our firm apart:
1. The client comes first. 
No kidding. This is our job, but it's your family. Your life. So, we don't keep this process a mystery, we don't keep secrets, and we take the time to explain everything. You need to be the first person to know about any conversation, any pleading, any development.  That's why:
Even if we attorneys can't call you back ourselves, our staff will get back to you.
We usually respond to emails seven days a week, often within an hour of being sent.
We send detailed statements every month of everything that's been done on your case.
We copy you on everything we receive in this office.
2. We treat you like a person, not a wallet. 
You wouldn't be here if you weren't stressed. But we believe that the best way to get you past the stress is to stand with you. Most lawyers try to convince clients that they are more "in-the-know" than you. It's a strategy to get you to open your wallet and stop asking so many questions. Here, we don't think anyone is better than anyone else because of a J.D. Here, we love questions. We want you to understand everything. We'll take the time to explain it, and we'll take as long as needed to sit with you until you understand.  We have a sense of humor about the law, and especially about ourselves.
3. Our lawyers maintain a maximum caseload of 50 clients. 
Most lawyers take whatever work comes through the door and maintain caseloads of 150-300 or even more cases. Being that over-worked means they are constantly reacting to crisis, rather than running their files. You have enough crisis in your life without dealing with the crisis of your lawyer being perpetually overworked and never available. That's why each of our attorneys has a cap of 50 clients at a time.
4. We charge either flat fees or refundable retainers.
Most lawyers charge "non-refundable retainers." That means, if your case takes less time than they thought, they pocket the money. If it takes longer, then you still owe money.
Our family lawyers charge refundable retainers – meaning, if the case takes less time than we thought, then you get money back. We refunded over $68,000 to clients last year whose cases turned out to not be as bad as we thought.
Our criminal defense attorneys charge flat fees – meaning, if the case takes less or longer than we thought, your fee remains the same.
5. Our offices are in old houses, not some shiny high rise. 
This means, first, that you aren't being charged a premium, extra rate to subsidize that rent, and second, that you get to come visit us in a comfortable, informal atmosphere.
6. We use the latest technology.
Even though we pride ourselves on our "old school" values, we bring the latest technology to the courtroom. All of our files are scanned and at our fingertips 24/7. We have real-time access to the research skills of support staff back at the office; we have the most sophisticated audio and visual presentation capacity of any family law firm in this area, and an information gathering, storage, and access system beyond anything our local court system has seen. As one Judge remarked, "doesn't all that give you an unfair advantage?" My question is:  what's unfair about being equipped to serve our clients in every capacity possible?
7. We work as a team.
Most modern law firms are actually an "association of attorneys." An "association" is a group of lawyers that simply share office space and a receptionist. They don't typically consult with one another or know anything about each other's cases. At Held Law Firm, when you hire one of us, you hire all of us. We meet regularly to go over all aspects of your case, from the legal strategy, to the status of negotiations, to how to make this more affordable, to how to ensure other legal issues that you may not be first on your mind are addressed. We assign tasks to the staff person who can do them most cost-effectively, efficiently, and quickly. We work as equals in this office, from the senior attorney to the new law clerk. We all have our work and our wisdom to offer, and you benefit from all of us working together.
8. We keep an eye on the big picture.
Whether it's the big picture for your family, or the big picture for the community, we are your advocates. We learn from the individual experiences of our clients, identify common problems, and develop larger policy-based strategies to improve our community, and the experience of our clients with the legal system, overall. Every lawyer here maintains a caseload that includes at least one person that we are representing for free. We are not just hired guns, we are officers of the Court. We are bored by the idea of being just good enough. We enjoy being the best.
9. We have a combined 100 years of experience. 
Most lawyers are burnt out by the time they reach this point in their careers.  We feel like we are just now hitting our prime.
10. We love what we do. 
Enough said.
To schedule a case assessment with Margaret Held or another Held Law Firm attorney, call 865-685-4780.